Hii everyone! Thank you for stopping by my blog. My hope is that my blog can provide information about health, fitness, and other lifestyle related topics that you might enjoy! Feel free to peruse around, and don't hesitate to reach out via email with questions.
Who Am I?
My name is Kelly, also known as Kiki! I got the nickname Kiki from my goddaughter, Madeline (or maybe I should say it's actually from my sister, who told her daughter that was my name!) Anyway, most of my family calls me Kiki, so feel free to call me Kiki as well. I am a 26 year old living in downtown Chicago. I originally hail from the suburbs of Chicago, and a proud alum of the University of Illinois at Urbana Champaign (I-L-L!) After graduating, I served as a Corps Member in the Teach For America Chicago Corps. I taught 11th grade physics & engineering for two years as a corps member on the Southside of Chicago, in the Englewood neighborhood. After my two years teaching science, I switched over positions to become a high school college counselor, which is my current title. In this role, I help 12th grade students navigate the college and financial aid process and ultimately make decisions about their postsecondary plans.
What is my story? Here's my background..
So, you might be wondering why I even decided to start a blog, or what right I have to be speaking my story. My hope is that if you are reading this, you can connect to some part of my story and are inspired to make a change in your own life.
I have struggled with body image issues and self esteem issues for most of my life. For whatever reason, since middle school, I've always been concerned about how I look physically. My history of dieting started as early as 7th or 8th grade, when I found myself reading articles about how to cut calories or exercise to get thinner. When I was in 8th grade, I distinctly remember paying close attention to it all, and started actively trying to lose weight and get thinner.
At the beginning of high school, I was at a pretty healthy weight, but something inside me changed, and I realized it wasn't enough. I started to very consciously control and constrict what I ate, and I worked out a ton. If I felt like I ate something I shouldn't, I would find myself running on the treadmill in my family's basement (when we had one), or I would literally run up and down the stairs when my family was asleep to burn off calories. Things got worse and worse throughout early high school, and I eventually got to my lowest weight when people around me started realizing I was out of control and needed help.
Fast forward a year and a half, I did start getting help by talking to people at my church and using my faith to guide me toward healing. By the time I ended high school, I was at a much healthier weight and loved life again. When I went to college, a lot of that changed.
More Recent Story, what led me to where I am today!
I absolutely LOVED college. Then again, most people do. I joined an incredible sorority where I found not only my best friends, but a group of people I consider to be my soulmates. My pledge class has a group of 25 ladies that are still best friends and do almost everything together. It's kind of a constant running joke that we roll deep everywhere, because no matter what we do, we don't go anywhere with less than 15 people. Literally. That is not a joke. Anyway, college was an amazing time, and I met tons of great people. While a lot of the fun was learning about things I enjoyed, a good amount of the fun came with eating, drinking, and being merry – which led directly to me gaining weight steadily throughout college. It didn't really matter to me at the time, because I was happy, I loved my friends and family, and I was having fun.
We literally travel in backs of 20+. My friend's bachelorette – over 30 people present. LOVE YOU GUYS.
When I graduated college, I felt a little lost. I wasn't positive what I wanted to do with my life, I was probably the heaviest I had ever been, but I was figuring it out. I joined TFA in 2013 and actually had the most incredible first year teaching. It was hard, but I threw myself into it because I genuinely believed that teaching was what I wanted more than anything. I ended up being named the Teacher of the Year after my first year, which was a remarkable award to receive after putting in so much dedication and hard work.
My second year teaching, things went a little south. For some reason, I had a harder time connecting with students, and I felt myself starting to sink. I took on a leadership role in my building, and found my self-confidence waning. I knew I wasn't serving my students and I wasn't performing well in general at work. It was a stark contrast to my first year, where I felt on top of the world. Things got worse and worse throughout October into November. I remember going home and crying everyday. I would lock myself in my room or I would barely even address my roommate when she came home (sorry Rachel, I LOVE YOU!). In November of 2014, we had midyear check ins with our principal and assistant principal. During my meeting with them, I broke down crying. I told them how anxious I felt almost all the time. I told them that the only time I wasn't wanting to cry or didn't feel that way was when I was driving home to my apartment, because that was the only time of the day where I wasn't doing anything related to teaching. My principal made me call my doctor in her office. I went to my doctor that night. I told her how I was feeling and she told me that it sounded like I had developed a mild case of depression, very likely induced by my surroundings and stress level from work.
With my doctor, we agreed that I should take medicine for a short period of time, so I could get back on my feet. I told her that I wanted to workout, I wasn't happy with the way my body looked and I wasn't happy with how I felt. I wanted more energy, and I wanted to feel alive again. We agreed that being on medicine would be a short term solution while I did some things to change my lifestyle. I promised her I would start making it a point to go to the gym and would work on changing my eating habits. When I left her office, I made a promise to myself that 2015 would be my year. I was going to give myself the last few weeks of 2014 to adjust to being on medicine and making a plan for the future, but starting in 2015, I was going to be on a mission to get in the best shape of my life, and make my health and fitness my NUMBER ONE priority.
Soooo what has happened since?
Below are pictures of me on January 5th, 2015. I had lost about 10 pounds after I graduated college (mainly because I stopped partying so much). However, I was still at a pretty high weight for where I had been throughout the rest of my life. I wasn't happy, and I knew I wanted to lose anywhere from 40-60 pounds.
I set a goal for myself to reach – yes, a number on the scale. I vowed that I would do whatever it took, no matter how long it took to get there. I started by completing Kayla Itsines' Bikini Body Guides for working out, and by following Fit Girls Guide's 28 Day Jumpstart for eating. I completed both BBG 1.0 and the 28 Day Jumpstart multiple times.
I saw great change, and probably lost about 10-15 pounds by summer. By that point, people were starting to notice and could see a difference.
Over the summer, I started to follow more of a clean eating style of eating, and continued to do Kayla's BBG 1.0/2.0. At the same time, I began attending a gym in Chicago called KicK@55. The gym had high intensity interval training bootcamp classes, which basically constituted a mix of cardio, HIIT, and lifting/strength training. I went once a week or so over the summer. Starting in September 2015, I started going pretty regularly, and by October 2015, I was going daily. The bootcamp classes were exactly like BBG 1.0, but double the length of time, in a class format, and scaled up a few notches in intensity. I've been going to Kick@55 ever since (if you live in Chicago or are every visiting, PLEASE COME!)
Kick@55 Fitness at 108 W. Hubbard
http://www.kickat55.com
Around October 2015, I started trying the 21 Day Fix through Beachbody to continue to lose weight. Eating clean wasn't cutting it – I needed carbs. I did this until about January 2016, and lost another 10 pounds or so, and was sitting at my lowest weight in a while around February 2016, but still far from where I thought I wanted to be. Over the fall of 2015, I began doing tons of research about fitness, diet, and lifestyle. I saw people post #iifym with a bowl of ice cream and then another picture of them in a bikini, and I started to wonder what it was about. I did tons of research about this idea called 'if it fits your macros' or flexible dieting, and I was extremely intrigued. I checked out books, read articles online, and even joined a Facebook group to learn more about it. Every single transformation I saw was incredible, and every single one involved people eating carbs (like ice cream or cake). I decided to reach out to a coach (Paige – I
 YOU PAIGE) to help me get started and try it. I've been following IIFYM since February 2016, and have seen an incredible amount of change in my body since then. Not only have I seen changes in my BODY composition, I've seen changes in my performance as an athlete. Paige has helped me to lose another 20 pounds, and is continuing to help me reach my athletic and physique goals. My goals have changed – I am still working toward a number on the scale, but I have realized that it is actually so much more than just that number on the scale. The scale cannot define you. It's about how strong you are, your confidence, and your ability to persevere through difficulty. While I still am working toward a certain number on the scale because it was what I originally set out to do, I have realized that it's okay if it takes me time to get there, and more importantly, I am working on loving myself and being confident in myself. I plan to continue to work with Paige for an extended period of time through additional processes of leaning out, and adding more muscle to get the tone, definition, and strength that I have been working toward.
Here is a picture of me today!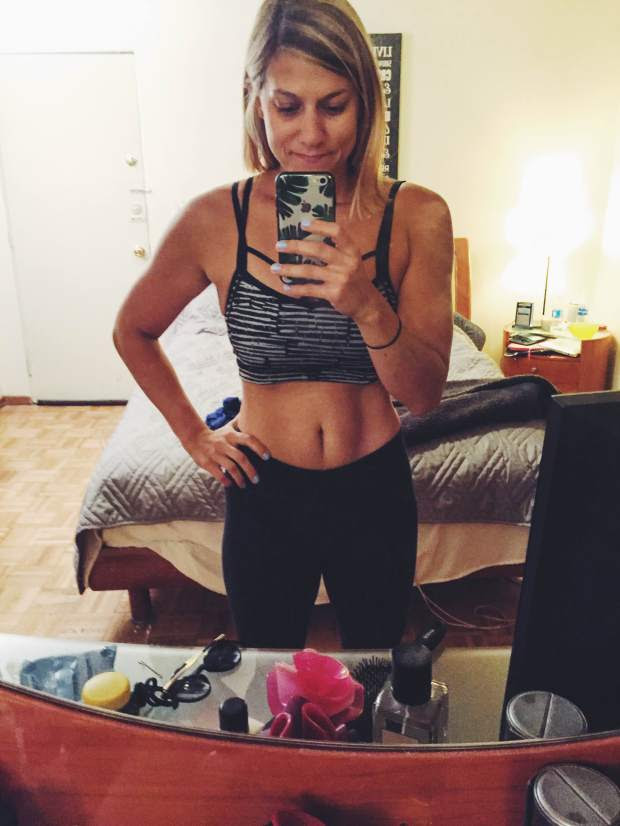 While I know I am not perfect or exactly where I want to be just yet, I know I have come an incredibly long way. I have been on my health and fitness journey for 83 weeks, and I don't plan to stop anytime soon. As I've shared my transformation and journey on instagram, I've had people reach out and I realized how much I want to help others reach their own athletic and physique goals. I WANT to help women (and men!) lose weight they have been dying to lose – for once and for all. I want to help them do it for themselves so that they can learn to love themselves and believe in their abilities. While the physical results have been amazing, I have to say that the psychological and emotional results are something I never even expected. On this journey, I have realized that commitment and discipline are keys to achieving goals. I've realized that we as humans can achieve ANYTHING we set our minds to if we commit and believe in ourselves. There is literally nothing we can't do if we put in the work and do not give up. I genuinely believe that. And most of all, it is so important that no matter what, we realize that we are beautiful, inside and out, in all of our imperfections. Beauty resides within the imperfections – they are what make us who we are. No one else is you, and that is your power.  I want to help you achieve your goals if you are ready to go after them. Don't hesitate to reach out! Love yourself, be confident in yourself, BELIEVE in yourself, because you can achieve what you set out to do. BE YOU!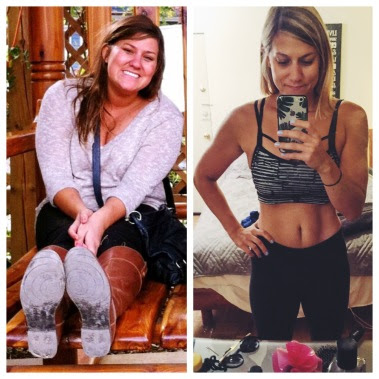 October 2011 (Senior year of college) to July 2016!
Love always,
Kiki